Waskita: Jurnal Pendidikan Nilai dan Pembangunan Karakter
WASKITA: Jurnal Pendidikan Nilai dan Pembangunan Karakter is a national journal published by Pusat Matakuliah Pengembangan Kepribadian (PMPK) under Lembaga Pengembangan Pendidikan dan Penjamin Mutu (LP3M) of Brawijaya University. Waskita has been published offline since May 2017 and online since 2019. This journal publishes benually in April and October.
This journal publishes thematic papers of research, scientific ideas, and book review. The theme of the publication related to the education of values and character building. The themes for the next issue can be seen at announcements. Authors can submit the paper through OJS. Matters related to authorship can be seen at information for author
WASKITA has been indexed in Google Scholar, GARUDA, and SINTA. 
Nationally Accredited by the Ministry of Research and Technology/National Research and Innovation Agency of the Republic of Indonesia (2022-2027).
Decree No. 79/E/KPT/2023 dated 11th May 2023.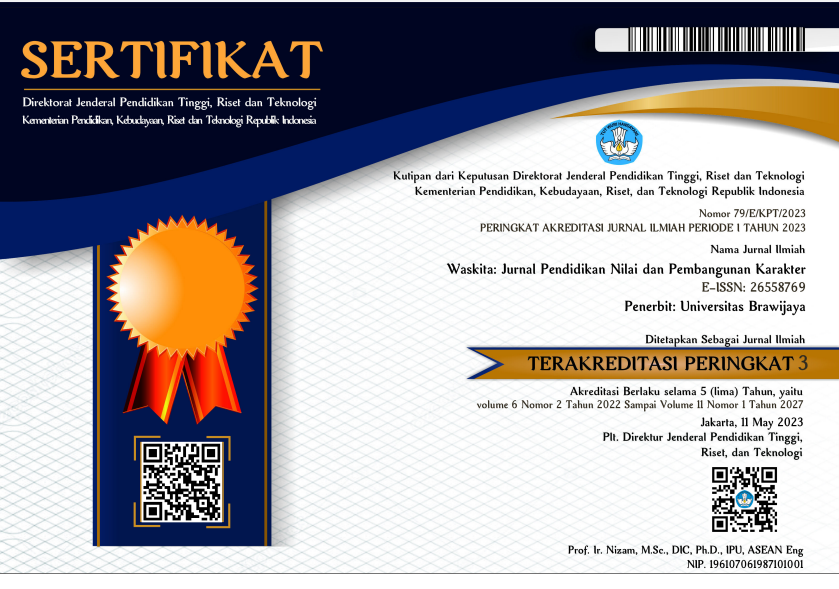 Announcements
No announcements have been published.
Vol 7, No 2 (2023): WASKITA: Jurnal Pendidikan Nilai dan Pembangunan Karakter
Table of Contents
Articles
Heri Santoso, Surono Surono, Dela Khoirul Ainia, Kusuma Putri, Hastangka Hastangka
Waskita,
Vol 7, No 2 (2023)

, pp. 112-123
Mohamad Anas, Emy Setyaningsih, Albar Adetary Hasibuan
Waskita,
Vol 7, No 2 (2023)

, pp. 124-142
Ega Nasrudin, Agus Fakhruddin
Waskita,
Vol 7, No 2 (2023)

, pp. 143-158
Handi Kurniyawan, Rahmat Rahmat
Waskita,
Vol 7, No 2 (2023)

, pp. 159-175
Dewi Ariyanti Soffi
Waskita,
Vol 7, No 2 (2023)

, pp. 176-192
Muharrdian Prameswari Fiaji, Nabilla Nurazizah Fiaji, Noveria Anggraeni Fiaji
Waskita,
Vol 7, No 2 (2023)

, pp. 193-208
Eneng Nurlaili Wangi, Dewi Rosiana, Yuli Aslamawati
Waskita,
Vol 7, No 2 (2023)

, pp. 209-220
Achmad Sutan Ihwan
Waskita,
Vol 7, No 2 (2023)

, pp. 221-237
sawaludin sawaludin, Dahlan Dahlan, Muhammad Mabrur Haslan
Waskita,
Vol 7, No 2 (2023)

, pp. 238-251
Book Review
WAWASAN KEBANGSAAN DALAM PEMBANGUNAN KARAKTER GENERASI MUDA
Farikha Fitria Shabrilia, Moses Glorino Rumambo Pandin
Waskita,
Vol 7, No 2 (2023)

, pp. 252-256